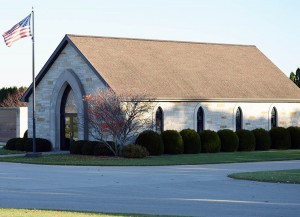 The Chapel of Peace was designed and constructed as an alternative to standing at the grave site for the committal service. Weather conditions in Northern Illinois are often less than ideal. The Chapel provides a reverent, climate controlled environment, so families and friends can say goodbye without the inconvenience of inclement weather and safety concerns of poor ground conditions. Since the Chapel's construction in 1993, there have been over 2500 committal services in the Chapel of Peace.
The Chapel features comfortable seating for up to 60 family members and friends, enhanced by beautiful stained glass windows with custom oak trim. In addition to committal services, the Chapel is used for our annual Christmas Remembrance Service and has even been used for a wedding.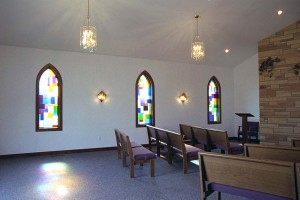 The Chapel offers another benefit: a small room is located discreetly at the rear of the Chapel for the purpose of sealing the burial vault.  Upon conclusion of the committal service, the casket is placed carefully in the vault. The burial vault is then sealed under optimal conditions to ensure the best possible closure – without weather and the environment becoming a factor. Interment is completed immediately, regardless of the season or current weather conditions.
A Chapel Hill official is present during this process to ensure that accuracy, respect and professionalism is maintained at all times. Of course, use of the Chapel is always optional.
Committal services can still be held at the grave site if desired. However, there may be additional charges for tent setup and/or additional preparation.